If you were fortunate enough to have known Mr. Lara, you knew him as a very caring and generous person with a true heart for kids. Mr. Lara was also very passionate about education and highly encouraged his students to continue their education beyond high school. In honor of his legacy in education and in his true spirit of giving, the family of Mr. Lara has established the Johnny Lara Memorial Scholarship Fund. Each year, starting with the Class of 2022, a Hart ISD graduating senior will be awarded the scholarship. If you would like to make a contribution you may do so directly in person or by mailing a check to: Happy State Bank PO Box 300 Hart, Tx 79043 Please make checks payable to Krista Lara and note Johnny Lara Scholarship Fund in the memo. Thank you in advance for your contributions and support. The Hart ISD family and the Lara family also thank you for the support you have shown during our loss.

It is with great sadness that we announce the passing of Mr. Johnny Lara. Mr. Lara joined the Hart ISD family in August of 2019. During his time at Hart he made a very positive impact on the staff and most especially the students. He dearly cared for and thought highly of the students of Hart ISD. In addition to teaching history, he was always willing to help and could always be seen lending a hand at various school activities. Mr. Lara will be greatly missed by all. The district offers its condolences to Mrs. Lara, Payton and Ty and the rest of the Lara family. You may view his service arrangements on the following link:
https://www.dignitymemorial.com/obituaries/lubbock-tx/juan-lara-10237582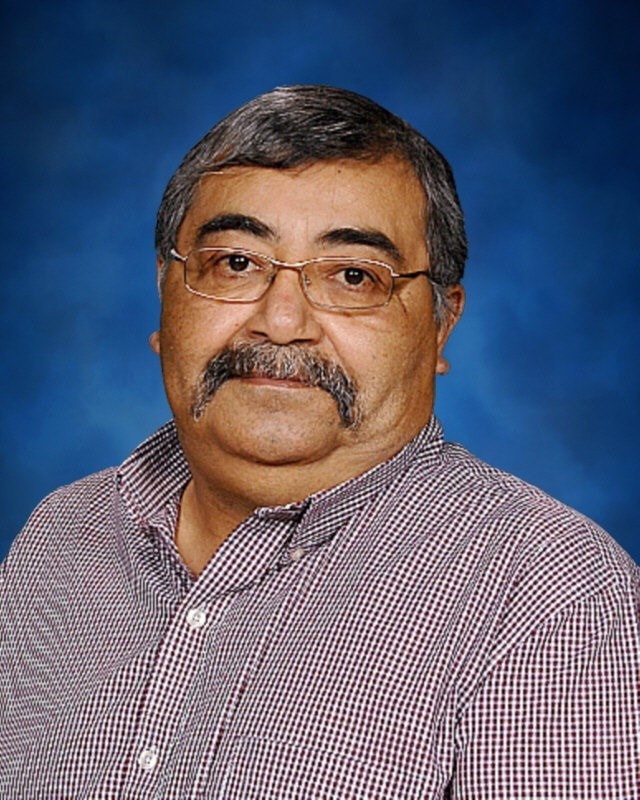 Hart ISD is applying to receive Elementary and Secondary School Emergency Relief Funds (ESSER III) to address unfinished learning and COVID-19 recovery. These funds are designated for one-time or short-term expenditures to address the ongoing impact of the pandemic. We are seeking your input about where to allocate these resources. Please let us know your opinion by completing the brief survey here:
https://forms.gle/EcyjzzjBJtsTLvm96
The survey will be available through June 11th. Thank you for your time!

This is another reminder that Hart ISD's Summer Feeding Program will begin tomorrow, Tuesday June 1, 2021. Meals will be available for curb-side pick-up from 10:30-12:00! Anyone between the ages of 1 and 18 are eligible to receive these free meals. Meals will be served Monday through Thursday throughout the month of June. Please stop by and pick-up meals daily as this helps our school to be able to provide this service each year!

Hart ISD Summer Feeding Program will begin Tuesday, June 1, 2021. Meals will be available for curb-side pick-up from 10:30-12:00! Anyone between the ages of 1 and 18 are eligible to receive these free meals. Meals will be served Monday through Thursday throughout the month of June. Please stop by and pick-up meals daily as this helps our school to be able to provide this service each year!

Did your child receive free or reduced-price school meals through the National School Lunch Program during the 2020–21 school year? If so, your family may be eligible for P-EBT benefits to purchase food. The P-EBT application opens June 2. For more information: hhs.texas.gov/pebt 833-442-1255 To apply, go to yourtexasbenefits.com/Learn/PEBT (application link is case-sensitive). Again, the application opens June 2. Deadline to apply is Aug. 13, 2021.

Parents and guardians, below is a list of health departments in our area that will have the COVID vaccine available for children ages 12-16! If you are interested please call any of the departments listed below to schedule an appointment.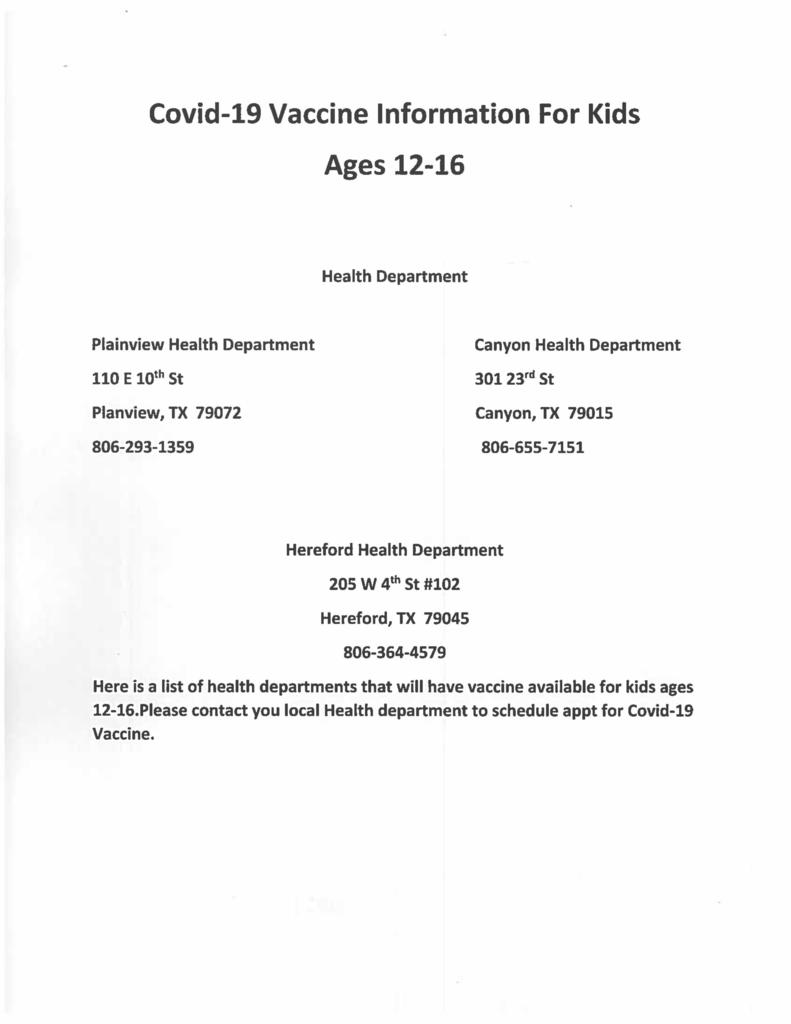 Update regarding High School Graduation: The High School Graduation has been moved indoors and will now take place in the high school gymnasium at 6:30 PM. Seniors will be allowed 10 floor seat tickets, and you will be asked to present a ticket if sitting in a floor seat. Non-ticketed guests will be seated in the upstairs bleachers and surrounding areas. Entry to the graduation will be closed immediately at 6:30 PM, and no one will be allowed admittance after this time. Thank you!

This is an update for tomorrow's Kindergarten Graduation: The 2021 Kindergarten Graduation will still be taking place at 9AM, however it will now be occurring inside the elementary gym. Parents and family that wish to attend are required to wear a mask. Thank you.

Assemblies for Elementary Awards will be held tomorrow, Wednesday May 19th, 2021! We invite all parents and families to attend! First Grade: 8:30 a.m. Second Grade: 9:00 a.m. Third Grade: 9:30 a.m. Fourth Grade: 10:00 a.m. Fifth Grade: 10:30 a.m. Sixth Grade: 11:00 a.m. We also ask that all visitors wear masks and sign in at the elementary office (South Entrance)

We would like to remind everyone that on Thursday, May 20th, Hart ISD's Kindergarten class of 2021 will be graduating! Be sure to be at the Longhorn Stadium at 9AM if you wish to attend and support!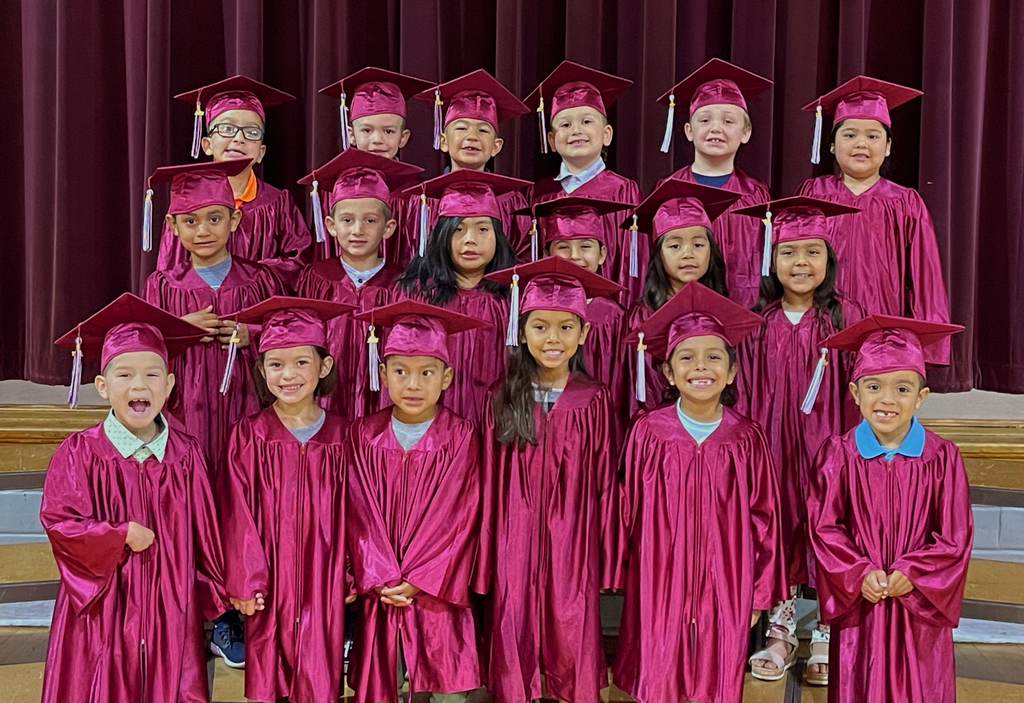 Catch up with the latest student stories, sports scores, and news updates! It's everything Hart ISD, in your pocket. If you haven't already, download the app on Android:
http://bit.ly/2JjZBbQ
or iPhone:
https://apple.co/3jlgiSi

Parents of Hart ISD Athletes, Coaches will be holding a meeting on Tuesday, May 18, at 6:30 PM in the Hart High School gymnasium. They will be going over the summer workout schedule and upcoming sporting events so please be in attendance!

In order to allow for testing accommodations for STAAR, Hart ISD will have many students learning remotely on Tuesday and Wednesday of this week. For Tuesday, May 11, 2021 and Wednesday, May 12, 2021- Only students in Grades 3-8 will be on campus completing their STAAR Assessments. All other students will complete remote learning packets at home. Packets must be completed and returned to school on Thursday. Attendance will be taken from packet completion. Incomplete or missing packets will result in students being counted absent. Testing students should be well rested and to school on time. Remember, school starts at 7:50 a.m. each day. Students arriving after 7:50 a.m. are counted tardy. Curb-side breakfast and lunches are available from 10:00-11:00 each day. Stop by the Hart ISD Cafeteria for meals. If you have questions, please call (806)938-2142!

Parents of Hart ISD Students, Hart ISD will be learning remotely tomorrow, Wednesday, May 5, 2021 to allow for testing accommodations for the End of Course (EOC) Exams. Students in 9th Grade will report to school at their normal time to take their EOC exam. All other students will be learning through remote instruction. Remote students will complete a remote learning packet at home and will need to return these packets to school Thursday. Attendance will be taken off of packet completion. (Missing packets will mean a student will be counted absent.) If you have any questions, please call the school office at (806)938-2142

Today Hart High School's Seniors participated in the GenTX signing day, declaring their post-secondary education plans! Congratulations Class of 2021!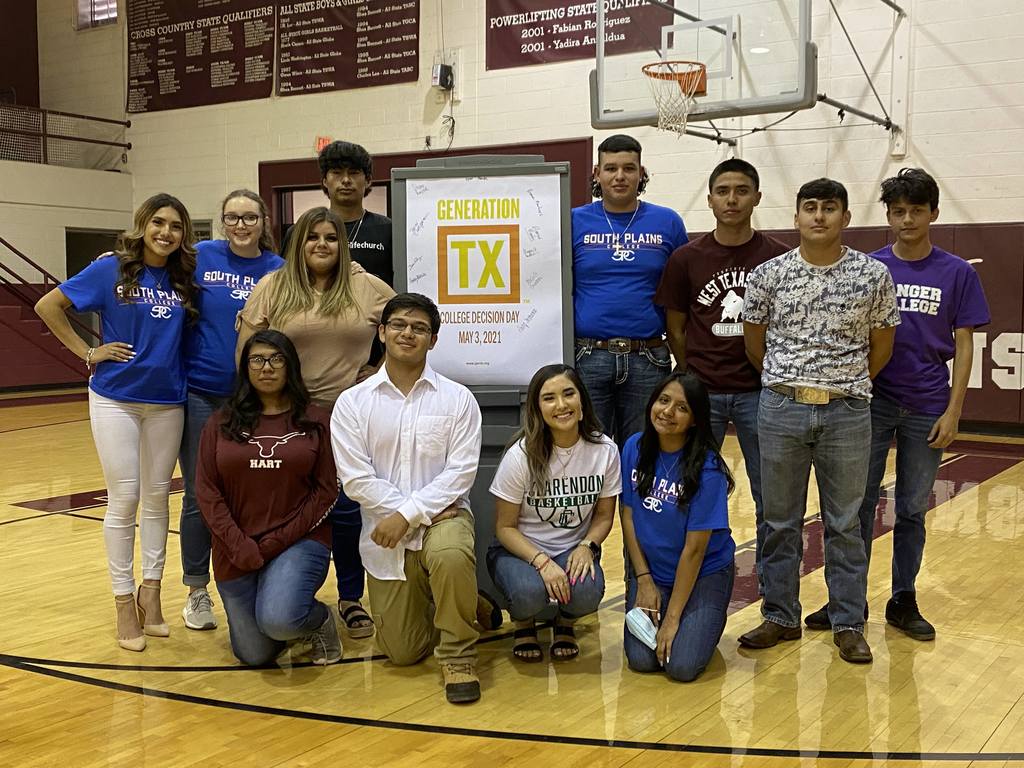 Congratulations to our Regional Qualifiers who competed well in Prelims and Finals this past weekend! They represented Hart Athletics in the 110 hurdles, 100 dash, 200 dash, 400 dash, 3200 run, boys 4x100 relay, girls 4x100 and 4x200 relay and long jump. Ramon Martinez, Leo Rodriguez, Kaleb Chavez Ely Hernandez, Toree Evans, Destinie Perez, Paizlie Reyna-Mata, Priscilla Gagnard, Elycia Gonzales.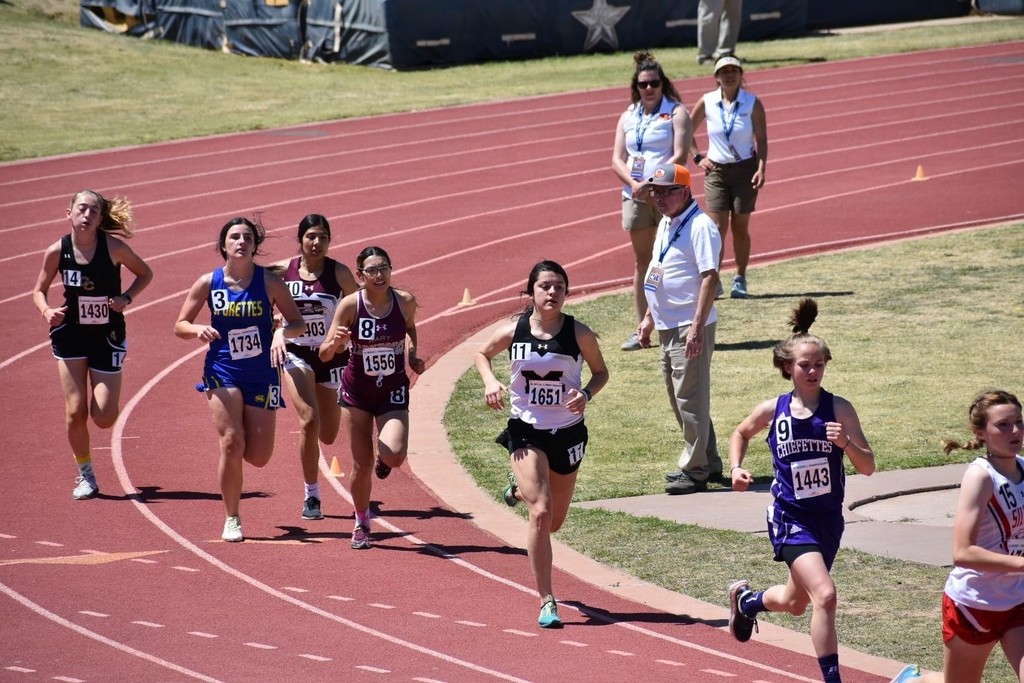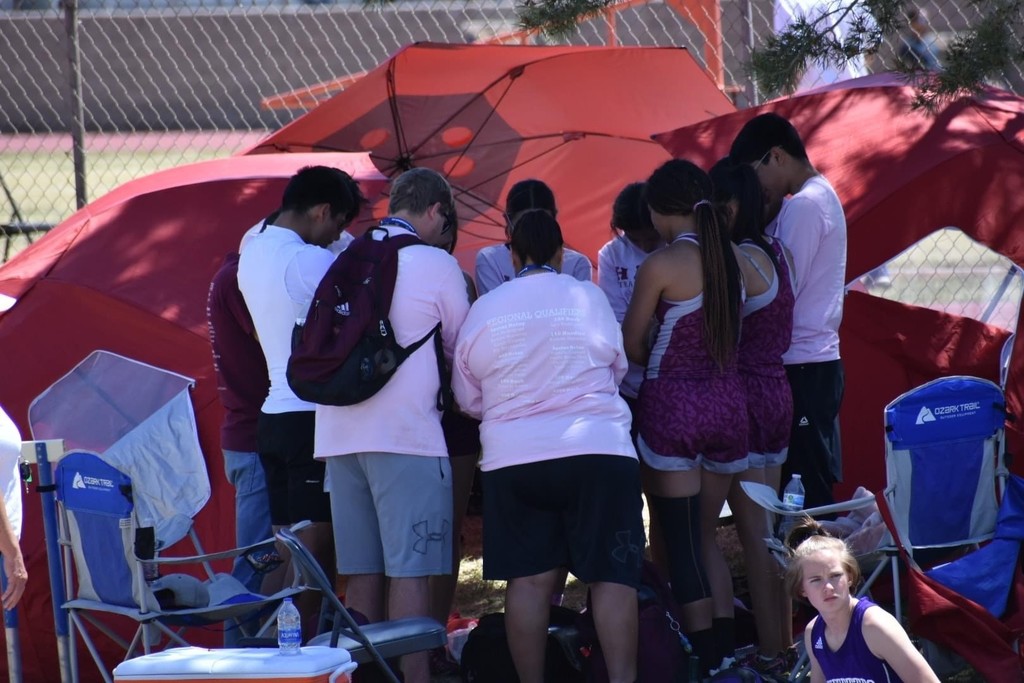 Sign your Longhorn athlete up for Austin Johnson's Elite Skills camp! This camp will be taking place from May 31st to June 2nd. If you need help registering please contact Ruby Romero.